ACA – Specialist Mental Health Architecture Project is Complete!
ACA's specialist mental health architecture design on behalf of Humber Teaching NHS Foundation Trust for Miranda House is now complete!  In fact, Miranda House is a psychiatric intensive care unit in Hull. Furthermore, it includes a mental health based place of safety for detention under Section 136 of the Mental Health Act 1983.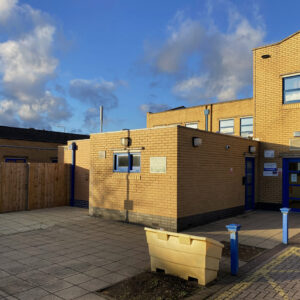 The Brief
The Trust appointed ACA to design an extension and improvement works of suite 136. Most importantly, the aim was to ensure the safety of staff and service-users and to improve the admission experience.  So, ACA's specialist mental health architecture knowledge was instrumental to develop a design with subliminal purposes.  For example, the design principles positively influence behaviour yet deter aggression or self-destructive tendencies.
Interior Design
Firstly, ACA carefully selected a mural wall depicting a local nature landmark of Spurn Point for the waiting area.  Thus creating an association with the locality and introducing a calming view inspired by the concept of biophilic design.
Secondly, the colour scheme selection creates a warm, welcoming, and peaceful atmosphere within the building.
Thirdly, the internal layout promotes easy external access to two 136 suites. And wheelchair-friendly access from the main waiting area to three consulting rooms.
Anti-ligature Friendly Design
The integration of anti-ligature features are crucial to the interior design strategy to create a safe environment for service users. Therefore, we carefully selected anti-ligature windows, doors and furniture, to prevent incidents, misuse or self-harm.
Therapeutic Environment
ACA focused on therapeutic environment design principles to create a welcoming and safe environment. So, all new rooms benefit from a window to maximise access to natural daylight. However, where it was not possible to have a window, the design team introduced sky lights to facilitate a glimpse of the sky.  Moreover, all doors are provided with vision panels with a dual operating mechanism to clear or obscure the glass.  This supports unobtrusive observation of service users as well as retaining privacy in the room.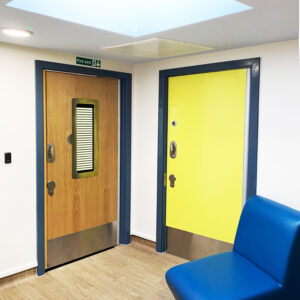 Noise Reduction
We designed the environment to minimise noise and promote a sense of calm and safety for service users. This was achieved by the careful selection of sound-absorbing floor finishes, ceiling, and soft furnishing.
Read more about Miranda House Extension.
Can we help you with a healthcare architecture project?