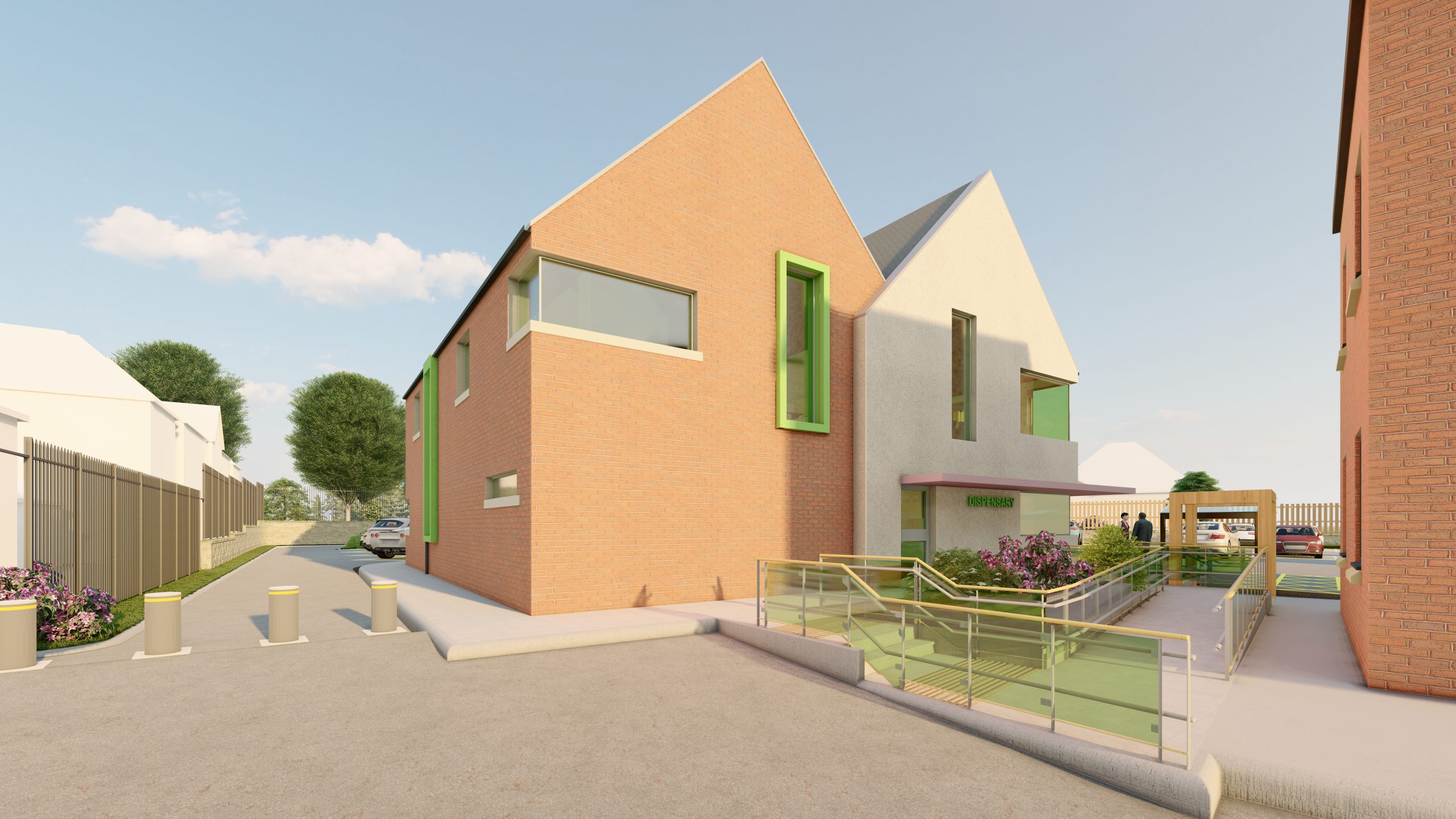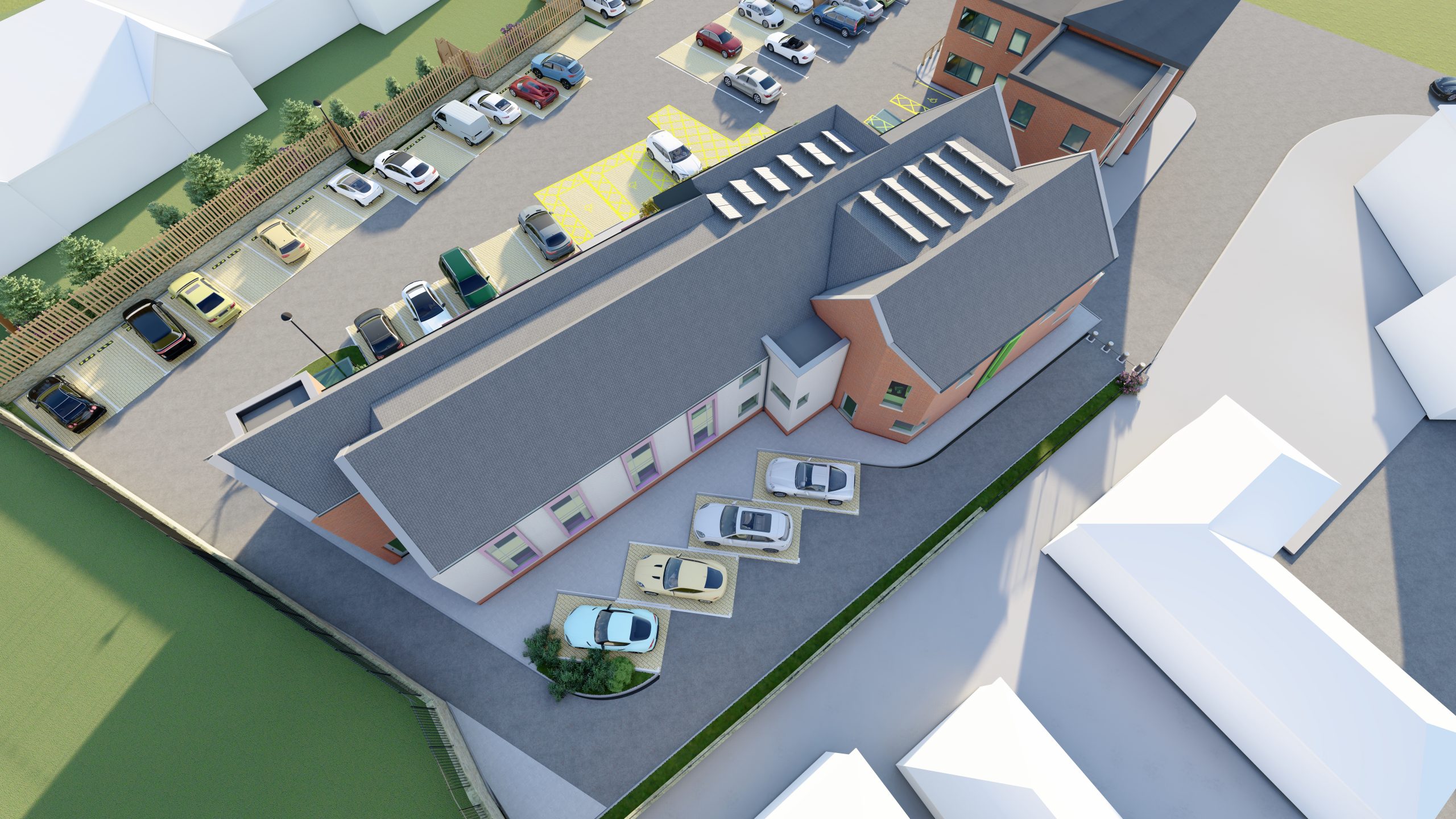 Developer One Medical Group appointed ACA to design a new build, state of the art medical centre in Hedingham. In fact, One Medical Group aims to complete the centre by April 2023.
The new build medical centre will provide a therapeutic and efficient complex from which Hedingham Medical Centre can operate.
ACA provided architecture, interior design and landscape design services.
The Brief
Firstly, the new centre will cater for more than 10,000 patients from the Hedinghams and surrounding villages.  So, all services will be under one roof which is a huge benefit to the patient population.  In fact, Hedingham District Councillor Hylton Johnson voiced his views on the positive social impact this will cause on the Hedingham local community.
"The delivery of a centre which meets the modern standards will benefit patients, residents and local community for many years to come."
Secondly, the state of the art design is for the long term, with room for growth.
Thirdly, the design is modern, while sympathetic to the look and feel of the local area.
Fourthly, the two-storey building will be energy efficient and comprise clinical and administration space, as well as a dispensary.
Fifthly, there will be parking for 44 vehicles – 35 for the medical centre and 9 for the neighbouring Work Hub.  In addition, there will be an ambulance bay, drop-off zone, charging stations and a cycle shelter.
Finally, there will even be bat and bird nest boxes to support biodiversity, as well as a community garden.
Materials
ACA carefully selected materials to respect the architecture of the local context yet introduce an innovative take. Therefore, the proposed materials include the characteristic bricks & render with bold prominent window surrounds detailing.   This offers a contemporary design reinterpretation of window surrounds with healing colours associated to the Hedingham Medical Centre branding.
Interior Design
In particular, ACA selected the therapeutic, healing benefits of a local nature theme for the interior design strategy. Furthermore we applied subtly dementia-friendly and accessibility-friendly design principles.
Firstly, ACA's approach to dementia-friendly design included a careful selection of Light Reflectance Values (LRVs).  Hence colours, materials and fabrics achieve an effective contrast to support the independence of dementia patients.
Secondly, ACA selected soft furnishings and sound-absorbing ceiling and floor finishes to reduce noise disruption.
Finally, ACA identified a different colour scheme for each of the main activity areas to support wayfinding. Also, we designed a bespoke signage including colour, braille, icons and pictograms to help identify each room.
Sustainability
Indeed, the proposal refers to the BRE Green guide and complies with Approved Document Part L. This ensures that the building will achieve a BREEAM rating ' excellent' standard. Moreover, ACA selected insulation with low embodied environmental impact to reduce energy usage. Also, openable windows  allow for natural ventilation.  In addition, the roof will host PV panels to reduce the carbon footprint of the overall building use.
Landscaping
Creating positive relationships with outdoor spaces is integral to the success of any scheme.  Thus, ACA has ensured all users benefit from a close relationship with external landscaped areas.  So, we have designed landscaping areas to; soften the impact of the building; enhance the boundaries of the development; increase species' diversity and
encourage present wildlife for roosting;
Above all, we are proud to see this scheme taking a significant step forward and obtaining planning consent. In fact, the application for Hedingham Medical Centre has been unanimously granted, which is a huge milestone for everyone involved, who have worked really hard to get the project to this stage.
Rachel Beverley-Stevenson
Executive Chair and Property Director, One Medical Group
New Build Medical Centre – Hedingham
ACA has designed a new build medical centre in Hedingham.
Client: One Medical Group
Services: Architecture, Interior Design and Landscape Design
Status: In development
Project Type: New Build
Year: 2021
Project Value: TBC