ACA – Dementia Design Champion
Caring for a person with dementia can be challenging.  As a result, ACA is Client Advisor to several NHS Trusts and private care operators as Dementia Design Champion. Alex Caruso, one of ACA's Directors, has built up a specialism over 20 years in the health and social care sector.   Furthermore, he trained at Sterling University Dementia Services Development Centre.  Also, Alex is a Director of the Design in Mental Health Network promoting evidence-based practice using applied research.
For example, ACA is currently Dementia-Friendly Design Champion on behalf of Humber Teaching NHS FT for the refurbishment of Whitby Hospital.  Previously, ACA successfully carried out the same role at East Riding Community Hospital and Maister Lodge for the same Trust.  Moreover, ACA has worked with private healthcare operators and housing associations.  For more details check out our projects page.
Examples of a Dementia-Friendly Design
Firstly, people with dementia often struggle to make sense of their environment and this can cause high levels of stress.  Therefore, the ACA design team analyses how to support and meet their needs to improve indoor and outdoor environments.   ACA adopts a holistic approach to the design of the environment.  Hence, we see environments as more than just physical spaces and through the use of interior design elements such as colour scheme; signage; artwork and furniture we extend people's independence.
Secondly, people living with dementia relate to their environment through familiar places, objects, or landmarks. Thus, we advise on how to design de-institutionalised spaces with a homely feel that stimulates all the senses: sight; touch; smell; hearing and taste.
Thirdly, it is essential to subtly support people with dementia to navigate their surroundings. Therefore, we advise on how to achieve a clear and simple design with visual cues for their destinations. Colours, materials and lighting contribute to a fully accessible environment.
There are many more design principles to consider for an accessible environment inclusive of dementia design.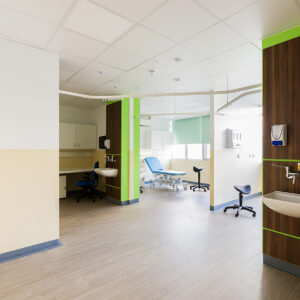 If you need help with a consultation to assess your environment with recommendations for improvements to achieve a dementia-friendly development, please get in touch!