ACA unveils its latest EMI Care Home Design!
ACA has designed a new-build, innovative EMI Care Home design on behalf of Millennium Care Group, based in Standish. In fact, Millennium Care is an award-winning care home group with 7 high-standard care homes in the North West.  "Lakeland EMI Care home" will cater for 48 EMI bedrooms.  EMI means Elderly Mentally Infirm and usually describes people living with advanced stages of dementia.
Project Background
Recently, Millennium Care Group carried out research which indicated a critical demand for beds for EMI residents in Standish.  Therefore, they aim to meet this shortfall with the development of an EMI care home.
The Design Brief
Above all, Millennium Care Group's vision is to create an innovative model of care in response to the Covid-19 pandemic. Excitingly, our proposal is one of the first, bespoke designs to address the principles of Dementia and Pandemic Proof Design.  Moreover, the proposed building needs to provide continuity of care to the residents of the existing campus, should their care requirements change.  Additionally, Lakeland EMI Care Home requires a pandemic-proof visitation pavilion to ensure visits can continue now and in the future.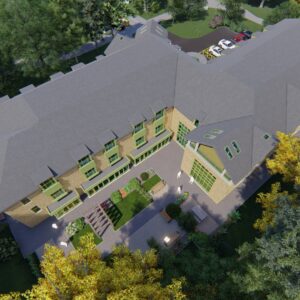 In fact, ACA are providing architecture, interior design, landscape architecture and CDM principal designer services for a holistic experience.
Current Status
Lakeland EMI Care Home design is currently undergoing a public consultation period, prior to the submission of the planning application.
Please read a detailed description of this project.
If we can help you with a project in mind, please contact us for a free consultation.
Go to our YouTube channel for a 3D video of the proposal: http://https://www.youtube.com/watch?v=aJaL4dOHkOk&t=1s