Alessandro Caruso Architects (ACA) are proud that one of our latest care home designs is complete!
Project Brief
Choice Care Group appointed ACA for a contemporary care home design in Fishbourne. Principally, the brief was to design high-quality residential care services for people with complex needs and mental health disorders. ACA provided architecture, interior design, landscape design, CDM principal designer and project management services.
An Extra Challenge – COVID-19!
Just as the foundations went in, lockdown forced us to down tools and take stock of the situation with COVID.  In fact, the client had already experienced COVID cases in similar facilities, which helped review our original design.  In conclusion, the home design for a small group of residents – ideal to create a homely atmosphere, presented its challenges for social distancing.
Fortunately, we had already designed some self-contained apartments which proved to be critical in supporting isolation requirements when needed.
Similarly, the review exposed the need to create a proportion of larger bed-sits, which we had already designed in!
Care Home Design – The Built Result
Located on the fringe of Fishbourne Conservation in a significant heritage context, ACA carefully considered the scale of the building and materials used.  For instance, the new care home is maximum 2 storeys high and in-keeping with the local context. Furthermore, the material selection of the external physical environment respects the local vernacular, interpreting it in a contemporary style.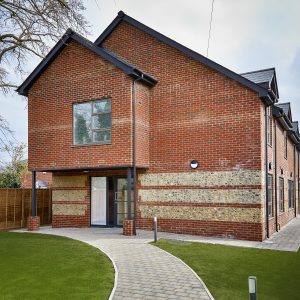 The development caters for a small group of 10 people within a village setting. Therefore, whilst living in a safe and individually supportive environment, residents can be actively involved in the community as much or as little as they wish.  Thus retaining independence, dignity and an active lifestyle – COVID permitting!
In addition to the turmoil of the pandemic, a significant challenge ACA addressed with the design was to provide a homelike setting for a healthcare facility.  That is, a de-institutionalised environment to benefit the well-being and ongoing recovery for residents, in a place where they would feel at home.
For instance, the layout of the care home supports individuals in a variety of ways. Spaces designed offer communal areas as well as self-contained apartments. Carefully designed gardens encourage sensory experiences and communal interactions for the residents, staff and visitors. Also, the selection of materials inside the contemporary care home significantly helps individuals with an association to their homes.
Thus, with the aim of achieving a holistic therapeutic environment within a contemporary home, ACA successfully delivered a design which offers independence, comfort and intuitive navigation.  Read more about this project!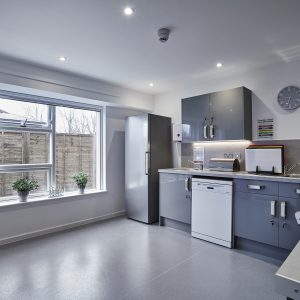 If you are interested in a chat with ACA for your own care home design, please contact us.