ACA is pleased to announce our latest care home development is progressing well on site.
Project Background
The new build care home development in Fishbourne is on behalf of Choice Care Group.  Furthermore, it will cater to people with complex needs such as Learning Disabilities, Autism, and Mental Health disorders.
Initially, Choice Care Group selected ACA as architects thanks to our specialist architecture knowledge in the health and social care sector and more specifically care home design. Not only, ACA are conservation architects meaning we have in-depth knowledge and experience of working with historic buildings.  Essential as the project lies within a conservation area!
Progress on Site
After initial delays due to Covid-19, construction began in June and is progressing well thanks to the recent good weather! Since then we've been working hard to ensure the project flows smoothly and is meeting all of the Client's expectations. Take a look at the development to date!
So far the foundations and ground floor are complete and the first floor is not far behind.
It was critical to familiarise ourselves with Fishbourne's local conservation policies and reports.  In particular, we understood the architectural language of the existing buildings to balance our new and innovative architecture design solutions whilst satisfying the planning officers.   For example, we are pleased to see how ACA's innovative selection of flint blocks are sympathetic to the vernacular architecture in a conservation area.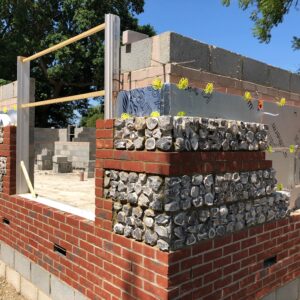 Construction of ACA's latest healthcare design project is expected to take 6 months from start to finish and on schedule for completion in early November.  Hopefully, residents can settle in by the end of November.  You can read more about this project here.
To find out more about our services including architecture and interior design click here.