The ACA team would like to wish you ALL a very happy new year 2022!  Indeed, we have some exciting plans for 2022 which we will outline shortly, but first…..
Reflections on 2021
Despite the ongoing problems caused by Covid19, 2021 was a very exciting year for ACA!
Additions to the Team
Firstly, we took on our first apprentice in May 2021.  Already a qualified Interior Designer, Sonia Kopacz is studying for a Project Management qualification alongside her work at ACA.
Secondly, we took on two part II architectural assistants, Hazar Tubeileh in July and Kornel Witkowski in September.
Thirdly we employed Paul Crawley as Senior Architectural Technologist in November.
Award Nominations and Wins!
ACA won an international award, a national award and was finalist for both a national and local award!
In the summer of 2021, ACA won an international award for the Allam Diabetes Centre at Hull Royal Infirmary.
Thereafter in November, ACA was finalist for the Customer Focus category of the Hull Live Business Awards.
In addition, we were finalist for Project of the Year up to £10m for the National Building & Construction Awards (NBCA).
Even better, ACA was gold winner for Architectural Practice of the Year at the NBCA.
ISO 9001 Certification
In November ACA received the welcome news that the team had successfully achieved ISO 9001 certification!
For the most part of 2021, ACA worked closely with ACA's quality consultant to consolidate documentation and prepare for the external audits.
Already a Royal Institute of British Architects (RIBA) Chartered Practice, ACA has its own in-house quality system in place.
However, ISO 9001 certification will be an additional point of differentiation for ACA.
In fact, ACA is one of the few, architectural practices in Beverley, Hull and East Yorkshire to hold the certification!  This strengthens ACA's credibility by demonstrating that our service meets the requirements of our customers.
Net Zero Carbon Commitment
Ahead of the government strategy, ACA received net zero carbon certification in December.
Completed Projects
December was a busy month seeing several projects complete.
For example, the award-winning Allam Diabetes Centre in Hull, on behalf of Hull University Teaching Hospitals NHS Trust, is now complete!
Hull City owner Dr Assem Allam generously donated £6m to the Trust to design and build the Centre which will care for and treat patients with diabetes and metabolic bone diseases.
Moreover, the state-of-the-art design contributes a fantastic first impression and an improved street scene on Anlaby Road, as well as attracting first class talent and further investment into Hull.
My family and I are proud to be associated with such an iconic building, whose beautiful and inspired design has both lifted and transformed the local street scene to an unprecedented level for the area." Ehab Allam.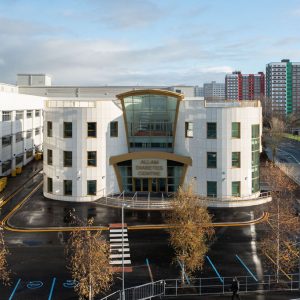 In addition, a new £3m GP surgery extension in Bedale is complete!
ACA designed Glebe House Health Centre with people in mind to create a therapeutic and dementia-friendly environment.
Moreover, it combines a GP surgery, community services and a retail pharmacy all under 1 roof for ease of access to the residents of Bedale.
The building accommodates 6 new treatment rooms, 14 new consulting rooms, a large waiting and reception area, a pharmacy, office spaces, and ancillary accommodation.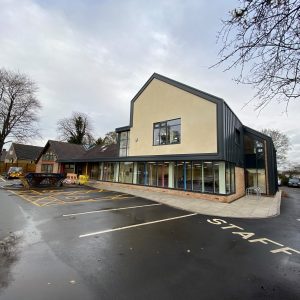 A further example, ACA's design of the St Barnabas Hospice Wellbeing Centre, a dementia-friendly wellbeing hub is complete.
Once again, we provided architecture, interior and landscape design services to create an integrated healthcare environment for the community of Boston.
The new Wellbeing Centre offers a relaxing, therapeutic environment to patients, carers, and their families whilst providing access to specialist clinical services.
The sensitive environment will support the patient from initial diagnosis by enabling them to manage symptoms and improve living conditions.
Plans for 2022
Throughout 2022, we will start work on several exciting projects including healthcare, education, commercial and residential developments.
Due to a continued increase in workload, ACA can't wait to move into a brand-new office space in Beverley in April 2022.
Furthermore, we have already taken on another architectural technologist and have several work placements lined up.
Additionally, ACA intends to continue taking corporate social responsibility seriously and will sponsor the White Cross Netball Team.
We are looking forward to working with both new and existing Clients: ACA can assist with site assessments, feasibility studies, building regulations and the tendering process for extensions, conversions and new builds.
Happy New Year 2022!!!!!
Alex, Amelia, Kornel, Sonia, Paul, Hazar, Austin, Asha, Andy – Architects and Interior Designers in Beverley, Hull and East Yorkshire