ACA is successful with ISO 9001 certification!
For at least the past 6 months, ACA has been working hard to prepare for ISO 9001 certification!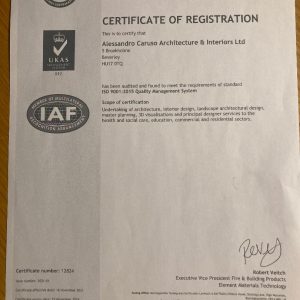 In fact,  Amelia Caruso, Alex Caruso and Sonia Kopacz are responsible for ACA's quality systems.  Recently they have worked closely with ACA's quality consultant, Adrian Glenville from Agire to consolidate the documentation and prepare for the external audits.
Already a Royal Institute of British Architects (RIBA) Chartered Practice, ACA has its own in-house quality system in place.
However, ISO 9001 certification will be an additional point of differentiation for ACA.  In fact ACA is one of the few, architectural practices in Hull, Beverley and Yorkshire to hold the certification!
This strengthens ACA's credibility by demonstrating that our service meets the expectations of our customers.
ACA offers architecture and interior  design service to Clients in the NHS, private healthcare, education and beyond.  If you have a project in mind, we look forward to hearing from you!