Alessandro Caruso Architects' (ACA) design of a new hospital building in Hull is now open!  In fact, the £8m new build Allam Diabetes Centre within Hull Royal Infirmary (HRI) opened its doors this month!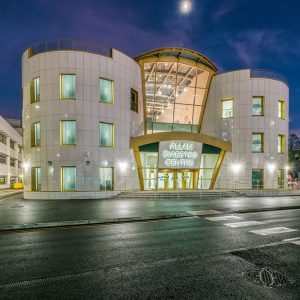 The Requirement for a New Hospital Building
Firstly, about 8% of people with Diabetes in the UK have type 1 diabetes and around 90% have type 2. Unfortunately, Diabetes is a serious and lifelong condition that affects several of ACA's family members and close friends.   Worryingly, the number of diabetes cases has doubled in the last 15 years, mainly due to obesity.  Data analysed by Diabetes UK affirms that in 2004/05 there were 2.1 million Diabetes diagnoses, but by 2019/20 there were around 4.1 million.
Secondly, Hull needed a new "state of the art" centre to replace the old Brocklehurst building.
Primarily, the new centre needed to provide treatment and research facilities under the same roof and boast a much more welcoming environment for patients, visitors and staff. Furthermore, the aim was to attract first class talent into Hull's hospitals and generate further investment in the city.
End-user Testimonial
As someone who has Type 1 Diabetes and as a retired Architect, I congratulate ACA on this magnificent new centre for patients and staff, who needed a modern centre to deliver excellent care!  Well done to all who made this possible.  David Nurse
Project Background
Incidentally, ACA's involvement for this project on behalf of Hull University Teaching Hospitals NHS Trust started in 2017.  Then, we performed a feasibility study to identify the scale and best location for the new centre.
Thereafter, the Allam family generously donated £6m for a new Diabetes Centre to treat patients with diabetes and metabolic bone diseases.
Initially, the design of the new hospital building began in 2019 under very strict timescales.  In fact, timescales were so tight that ACA had to design planning, tender and construction phases simultaneously!
Designing the Allam Diabetes Centre was a real challenge!  As well strict timescales, the location of the site is in a high flood risk area!  This required very comprehensive supporting documentation for the planners.  Add to that the chaos caused by Brexit, affecting the supply of materials and then the Pandemic!
However, we survived!  Following planning approval for this innovative healthcare architecture project in June 2021, construction began!
Project Brief
Primarily  the new centre needed to wow and create a welcoming and positive environment for patients, visitors and staff.   In addition, the building needed to achieve BREEAM Excellent ratings and include:
– A ground floor with a large waiting area and reception, office space, consulting rooms and specialist treatment Rooms with associated ancillary facilities.
– A first floor with individual and open plan offices and training rooms.
– A Second Floor with research consulting rooms, offices, store areas and roof void.
Primarily, ACA sought to develop a people-focused design with a welcoming environment and a de-institutionalised feel.  You can read more about ACA's design here.
ACA are specialists in healthcare architecture and interior design.  Contact us to discuss a project in mind!