ACA's robot pharmacy ward refurbishment on behalf of London North West University Healthcare NHS Trust is complete!
In fact, the pharmacy lies within Northwick Park Hospital in London. Furthermore, this is one of the largest installations in the UK.  Indeed the robot pharmacy ward refurbishment was a very complex project which we developed in a multi disciplinary approach, taking on board perspectives from all specialists involved.
The Brief
Firstly, ACA developed the design of an existing hospital pharmacy to improve the functionality of the space. Secondly, we adapted the internal layout to cater for a pharmacy robot!  Specifically, a ROWA robot system is an automated medication storage and dispensing system in hospital pharmacies.
Above all, the BD Rowa Vmax robot can scan, store and distribute thousands of packs of medication every week.  Furthermore, it enables the pharmacy team to supply medicines quickly and reduce the risk of medicine picking errors.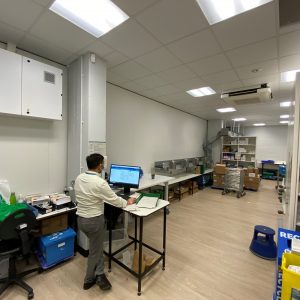 The Completed Design
The dispensary room layout improves the functionality and movement throughout the space for patients and staff.  Furthermore, the overall internal design covers two storeys.  So, the lower level includes a robot storage room, fridge and lobby.  In addition, the upper floor level includes a reception, a consultation room, a dispensary room and offices
Happy Client
"The Pharmacy Robot Installation and Refurbishment here at LNWH is a complex project for a number of reasons, we chose ACA because, having worked together on previous projects, we knew they had the experience and design ability to deliver.

I would highly recommended using ACA if you are looking for a complete and professional architectural service."

Keith Lidington, Senior Project Manager, London North West University Healthcare NHS Trust.
ACA provided architecture, interior design and principal designer services.
If you have a project in mind, please get in touch to discuss!