Our Top 4 Interior Design Tips for 2020
We're halfway through the second lockdown of 2020 and we are all accustomed to spending more time in our homes than ever before. As a result, there is no better time to focus on our health and wellbeing than during a lockdown!
To do so, we should think of our living space as our sanctuary and safe haven. Not just a new place to learn, work and exercise. 
It's surprising how much our mental health is affected by the residential environments we live in. They also impact our emotions, motivation levels and sleep quality.
So, to improve our health and wellbeing, one of ACA's Interior Designers (Sonia Kopcaz) has shared her top 4 interior design tips for better health and wellbeing during a lockdown.
Increase Natural Light
First things first, open your curtains! 
It costs nothing and trust us, increasing natural light will boost your mood, health and improve motivation levels.
Additionally, natural light can help regulate Seasonal Affective Disorder (SAD). Otherwise, known as "Winter Depression", it can leave you with a low feeling mood during the darker and shorter days.
Moreover, natural light can help boost vitamin D levels, which are associated with better lung function, suggesting it plays an important role in maintaining good respiratory health.
In fact, recent studies show that 80% of people hospitalised with COVID-19 have low vitamin D levels.
Unsurprisingly, as mental health and sleep go hand in hand, natural light positively affects both.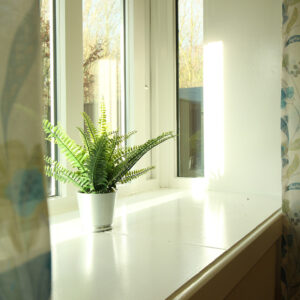 Increase Natural Ventilation
Unlike the glorious weather of the first lockdown, it is becoming increasingly colder as we head into winter. But why not open your doors and windows for 10 minutes?
According to the Environmental Protection Agency, indoor air is between 2 to 5 times more toxic than outside air. Along with smoking and burning solid fuels inside your home the following are example causes of low indoor air quality.
7 Causes of Low Indoor Air Quality
Poor Ventilation

Moisture / Dampness

Personal Care Products

Animal Allergens

Cleaning Products

Air Fresheners 

Burning Candles
By opening doors and windows for just 10 minutes you can invite fresh air in improving the air quality inside your home.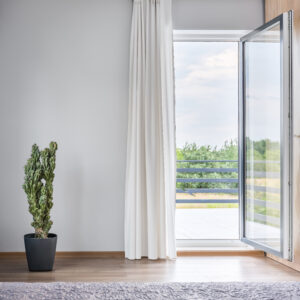 Introduce Biophilic Design
As outdoor activities become more and more restricted, why not bring nature indoors? 
Research shows that when asked to think of a place where you feel calm and relaxed, more than 90% of people mentioned a natural setting.
Biophilic design is a design philosophy which encourages the use of systems and elements of nature such as plants, water, natural materials and lighting. By introducing some biophilic interior design into your home, you can connect with nature and the world outside. 
Thanks to its therapeutic role, the benefits of biophilic design boost productivity and wellbeing, whilst also reducing feelings of anxiety and stress.
Not to mention that having several plants purifies the air!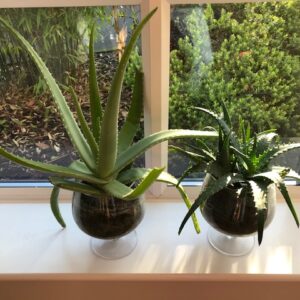 Add A Cosy Corner
Do you have a space in your home dedicated to relaxation or meditation? It is important to create a cosy corner where you can just sit down, relax and get away from it all.
Do you have a space in your home dedicated to relaxation or meditation?
It is important to have somewhere you can just sit down, relax and get away from it all. There's no better way to do this than with a cosy corner! 
When it comes to interior design tips the key is to personalise your corner. Regard it is an escape from the other rooms in your home, where you can unwind with a cuppa, read a book, write a diary, light a fire or even just put your feet up! A cosy corner should include a comfy seating arrangement with the addition of cushions and a blanket for colder seasons. Don't forget a small coffee table to place your books, magazines, drinks or snack. Why not include a Himalayan salt lamp to create a warm glow whilst simultaneously cleansing, deodorising and purifying the air?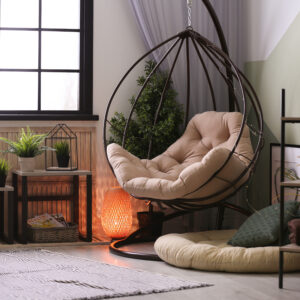 Implementing any of these 4 interior design tips can improve your health and wellbeing during the lockdown. 
Although they may not solve all your problems, they'll definitely improve your situation enough to make a difference!
If you're planning an interior design project our expert designers can help. 
You can also use any of our interior design services to create your residential wellness hub!