We were excited to attend the official opening of St Barnabas Hospice Inpatient Unit in Lincoln.
In fact, Alex, Amelia and Sonia took the opportunity to see the finished remodelling and refurbishment project.
Indeed, ACA provided Architecture and Interior design services to remodel and refurbish the existing building.
Principally, the 150 year old building required required lots of TLC and a revamp into a healing and therapeutic space.
As always, we like to gather feedback from the building users to ensure our designs meet their expectations.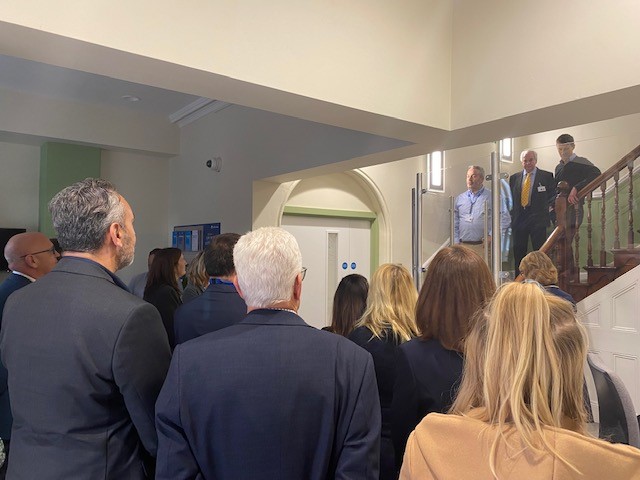 As part of his opening speech, Chris Wheway, St Barnabas Hospice CEO said:
Above all, this project has been thoughtfully designed with care, compassion and dignity.
ACA's mission is to improve people's lives through design and we consider all building users such as patients, staff and visitors.
Sue Carter, Ward Manager said:
Little touches make a huge difference.  For instance, bed lights improve patient safety and help reduce anxiety and fear, which increases at night.

Also, the natural images encourage mindfulness when patients can't sleep, they can drift away into that picture.
Sue added:
Staff love the look of the unit and feel passionate about the building and working here.

This is exactly what our patients deserve, especially when you think how sad  and tired the building was before.
Stephen Lumley, Partner at Thornton Firkin commented:
This has been a truly collaborative process.
As you can see, Biophilic design principles bring nature inside to create a non-clinical feel.
Sonia, Interior Designer said:
I am extremely proud to have worked on this rewarding project from start to end.
You can read more about this project here
Please contact us if you have a project in mind.