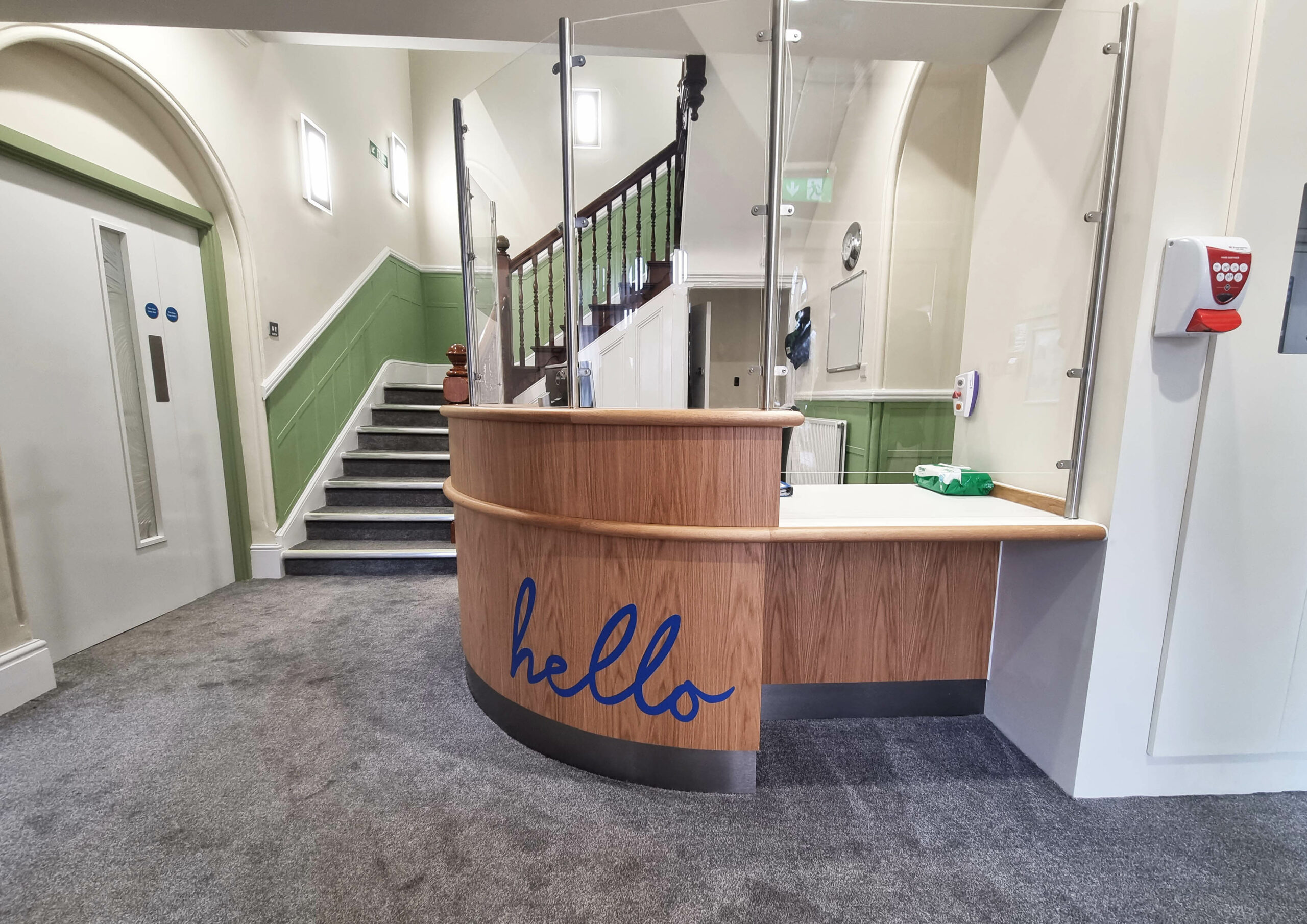 Following the successful delivery of St Barnabas Hospice Wellbeing Centre, St Barnabas Hospice appointed ACA for an Inpatient Unit Hospice (IPU) design.  This includes the refurbishment and remodelling of an existing IPU hospice in Lincoln.
The Brief
Firstly, the brief was to improve the durability of the development in general.
Secondly, the aim was to improve dementia-friendly and accessibility design principles for all building users.
Thirdly, the focus was to select finishes and fit out to improve aesthetics and create a domestic, non-clinical feel.
The Challenge
The main challenge was to work within a live IPU hospice environment, which has a high risk of infection.  Likewise, to create a domestic feel without neglecting the clinical / medical requirements of a hospice.
  As a result, the ACA design team took extra precautions during the COVID19 pandemic.  In doing so, we ensured all selected finishes are infection proof.
ACA's Design Solution
Crucially, we selected antibacterial wall, floor and furniture finishes thus reducing the risk of infection. However, the selection of furniture and colour fabrics creates a warm and homely atmosphere.
Interior Design
Firstly, ACA designed a welcoming entrance, boasting a feature coloured wall and coloured ceiling to illuminate the space. The colour and texture of fabric selections creates a natural ambiance. Furthermore, the counsellors' room provides a cosy setting with biophilic elements such as plants to purify the air.  Here, patients and their families can absorb information in a non clinical and therapeutic environment.
Secondly, ACA designed the conservatory area to be used all year round.  Also, there are designated seating arrangements for different activities such as socialising, reading, dining or playing cards.
Thirdly, ACA identified a different colour scheme for each of the rooms to support wayfinding. We carefully selected colours to achieve LRV (Light Reflected Value) contrasts between floors, walls and soft furnishings.
ACA provide a professional bespoke service. Time was taken to truly understand what was important and priorities with a budget. We felt confident throughout the project with the service provided and are very happy with the result.
Nicky Ingall
Head of Estates & Facilities, St Barnabas Hospice
Inpatient Unit Hospice Design, Lincoln
St Barnabas Hospice appointed ACA for the refurbishment and remodelling of an existing Inpatient Unit (IPU) hospice in Lincoln.
Client: St Barnabas Hospice
Services: Architecture and Interior Design
Status: Complete
Project Type: Refurbishment and remodelling
Year: 2021
Project Value: £1M