Well, we are pleased to share that ACA's interior designer, Sonia Kopacz, has passed her apprenticeship in Project Management at ELA Training Services!
Prior to this, she gained her APM Project Management Qualification (PMQ).
In fact, Sonia began her apprenticeship in February 2022 and finished in March 2023, well ahead of schedule!
We wanted to find out why Sonia chose to embark on an apprenticeship in the first place…
ACA: Why did you decide to do an apprenticeship in Project Management?
Sonia: Well, I wanted to boost my skills as a project manager.  Also, I wanted to bring best practice into my team.
ACA: What were the highlights?
Sonia: The highlights were applying my learning at work and developing further work-related skills. For instance; leadership, communication and analytical thinking.
ACA: What were the challenges?
Sonia: I stepped out of my comfort zone with this apprenticeship as I'm more from a design background! Also, I joined late so to begin with, catching up was difficult. Fortunately, with help from my tutor, I managed to catch up and even sped ahead of my peers!
ACA: How has this experience benefitted you and ACA?
Sonia: I now provide an enhanced project management service for the interior design and fit out side of our projects.
ACA: What's next?
Sonia: It's never too late to learn something new! My next aim is to improve my knowledge of dementia design. Specifically, the course I want to attend is, "Intersection of Dementia + Design". The course is organised by Dementia Services Development Centre (DSDC).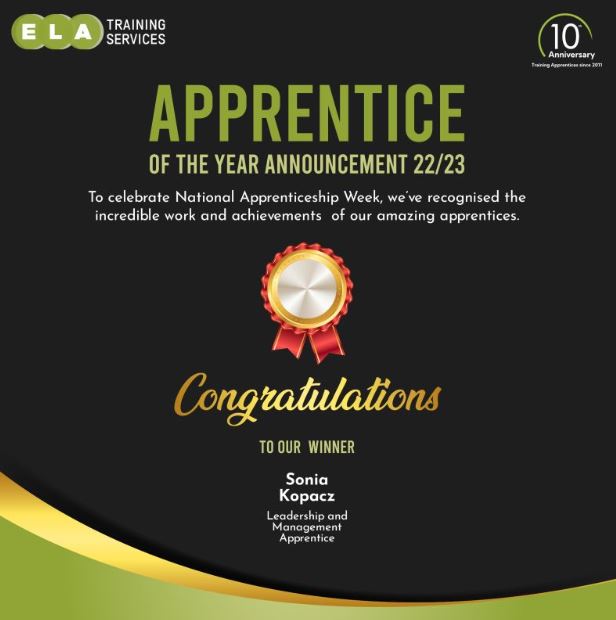 Additionally, Sonia won the ELA Training Services Leadership and Management Apprentice of the Year Award!
If you have an interior design project in mind, get in touch!