Home Office Design in Hull & East Riding of Yorkshire
Heading towards the end of 2020, without doubt, this has been the year of disruption to routine and the discovery of the concept of "new normal".  For many, new normal is working from the comfort of our own homes.  But is your home office up for the job?  If you feel you could use some help with home office design in Hull & East Riding of Yorkshire, our architects have put together a list of tips and ideas to help you achieve your "perfect home office design".
Five Home Office Design Tips
1. Find a Dedicated Office Space
Set aside a dedicated space for your office. If you have a spare room this is great! But if not, try to think of alternative solutions: could you fit a small desk in your bedroom, or in a corner of the living room?
If correctly designed, the smallest space can be the perfect workplace – even a small alcove or the hallway!
And if you have a small living room, by simply switching up the furniture arrangement, you can make space to create your home office. Placing the sofa against the longest wall and then putting your desk directly in front of the window opens up the centre space making the room feel open and airy.
Perhaps you are lucky enough to have a loft space? And even if right now it is only a space where you hoard things you will never use, it could become the home office (and more) that you have always dreamed of!  Plus, it will add value to your home!  Contact us and we will help you design your perfect place.
2. Organise Your Home Office!
Make use of filing cabinets, file folders, labels etc. They are extremely useful, especially if your small office does not have a dedicated room. After the day is done, you can clear the space easily and relax!  Not to mention the joy of beautiful stationery!
3. Make Your Home Office Design Comfortable!
Make your workstation as comfortable as possible: you will be spending a lot of time there! Spending many hours on the same chair, especially if you do not have a proper office chair at home, can be bad for your back and your mood. You can change up your routine by alternating between your old chair and a kneeling chair, to change your posture. Or perhaps you may find that a standing desk converter suits you best, allowing you to alternate between a standing and a sitting position throughout the day. Our Managing Director, Alex is an advocate for the standing desk!
And it is important to try and find some time to move… so, keep moving!
4. Add Some Plants to your Home Office
Find space for plants: we have already talked about the benefits of Biophilic Design here. They increase productivity, purify the air, are stress-relievers and creativity-boosters. Those that will thrive in workplaces include succulents (which include aloe and cacti), rubber plants and peace lilies.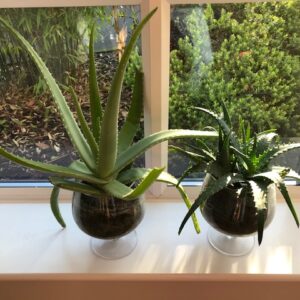 5. Design an Attractive Backdrop for your Home Office
Virtual meetings are the new normal, and now that your office corner is set up it is time to think about what the viewer will see from your webcam. Make the backdrop more visually appealing to your virtual visitors with a nice print, poster or wall shelf.
Don't stress yourself out in the search for the best Zoom backgrounds: be creative and follow your instinct.
Although they may not solve all your problems, they will definitely improve your situation enough to make a difference!
If you are planning an interior design project our expert designers can help.
And if you want to see some of our offices project click here
You can also use any of our interior design services to create your residential wellness hub!
Please get in touch for a free consultation for home office design in Hull & East Riding of Yorkshire