Happy New Year!
As creatives, we believe in the power of every moment as an opportunity to think of something amazing, make a radical decision, set a course in a different direction or for planning new goals. The turn of the year is a great reminder of this, so we want to take this opportunity, while we're still only in the second week, to wish you a happy, healthy and successful new year.
Looking Back to Look Forward
While considering what the future holds for ACA, we have reflected on what we achieved in 2022 and can honestly say we are all surprised by how great a year it was. Thanks to the combined effort of everyone in the team, lots of hard work, and perhaps a little luck, we have managed to move the needle significantly in lots of ways.
For a start, we've managed to complete many exciting projects. On top of that, we've secured planning permission for plenty more to come, and some excellent developments have started. We are looking forward to seeing them finished.
But there's so much more to celebrate than new designs and building projects. We've grown and developed in many other ways – a larger team, new offices, and important accreditations to name a few.
Without a shadow of a doubt, 2022 was ACA's best year to date. We've got far too much to talk about in one blog so for now, we're going to focus on how we've grown as people and as a company.
So, without any further ado, let us share why 2023 was such a great year.
We're Growing – New Offices and New People
We had originally wanted to move offices in 2020, but the pandemic and the changes in working conditions that came with it meant we had to put those plans on hold. Following an excellent 2021, we took on new staff, and we needed more space. The office move was back on the radar. Having discovered plans for the construction of Beverley Enterprise Centre back in 2020, we'd been eagerly following the project. It looked like the ideal home for our creative hub, so once construction was completed in 2021, it was only a matter of time before we'd take the plunge.
Beverley Enterprise Centre was officially opened by Graham Stuart, MP for Beverley and Holderness and Minister of State, in July 2022. What were we waiting for? The decision to move into the new office was actually more of an expansion than a move because we kept our old office as a finance and administrative hub.
Developing Tomorrow's People
As part of our team expansion, we took on gap year student Alice Edgar as a Part 1 architectural assistant. Alice was taking a break from her third year studying BA Architecture at the University of Sheffield. She has proved herself to be a valuable asset to the firm.
What Can Architects Learn from Music?
Alice, a talented musician, gave us some interesting insights into what architects can learn from music.
Here's a quote from Alice:
"Architecture is the arrangement of components in space, while music is the arrangement of sound in time."
Design Your Own House, Why Don't Ya?
We also invited a couple of young people to join us for work experience. Year 10 student Harry Archibald from Beverley Grammar School wasn't sure what he wanted to do but knew he enjoyed art and using AutoCAD in his design technology class, and ACA provided the perfect environment for him to develop his skills. How many teenagers get the chance to design their own dream house? Well, Harry did, and here are some of the plans he produced.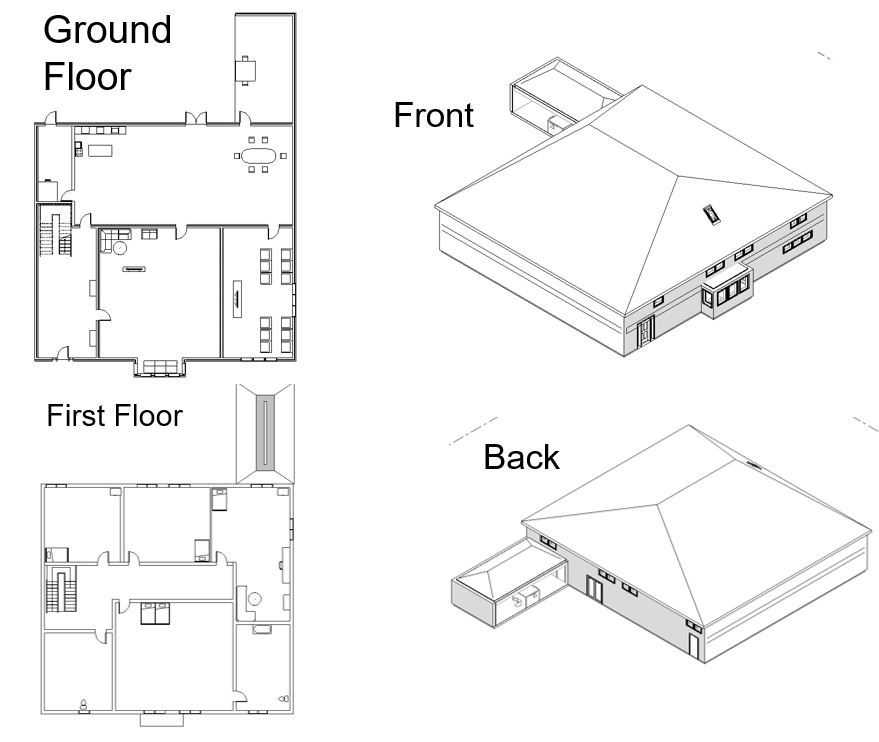 Hull's Very Own Leonardo Da Vinci!
Another wonderful talent who joined us for work experience is Ben Murphy, a year 12 student at Beverley Joint Sixth Form. Ben was studying four A-level subjects: fine art, product development, biology and core maths! What a beautiful combination of science and art. Definitely a renaissance man in the making!
Like Harry, Ben had a crack at designing his own house using Revit software, which he hadn't used before. Full support was provided by Kornel Witkowski, our Part 2 architectural assistant, who showed Ben how to design the walls and adjust their heights among other things. Ben also got to go on a site visit to Specsavers in Hessle and attend a tender sign-off meeting for a new care home along with other ACA team members headed up by our senior architectural technologist Paul Crawley. Our team were meeting the client and the quantity surveyor, and we're sure it was a valuable experience for Ben.
Take a look at Ben's house.
A New Challenge For Sonia
ACA's apprentice, Sonia Kopacz, already a fully qualified interior designer, enrolled on a project management course and took her final exam in September.
The world is her oyster.
Sharing Knowledge with the HNC Students of East Riding College
Alex relished the chance to share his experience with the HNC students of Construction and the Built Environment at East Riding College by delivering a BIM masterclass. If you haven't heard of BIM, you'd be fully forgiven because it is up there with some of the most cutting-edge design software around. It allows architects, surveyors, builders, and other stakeholders to use state-of-the-art dynamic 3D imaging to collaborate and use it for simulation and analysis.
Big News Closer to Home
The only way we can continue to offer a first-class service is by ensuring we are on top of every aspect of our game. That means ensuring that our processes are smooth, efficient, and service-orientated. At ACA, we also care about our people, so staff wellbeing is vitally important to us.
Certification and Accreditation
ACA has plenty to celebrate in terms of certification and accreditation, starting with full ISO9001 accreditation. Very few small businesses of equivalent size to ACA would even attempt to gain this accreditation. We believe it was worth the hard work and attention to detail, and we believe we offer a much better service because of the processes we have in place.
Constructionline Gold Standard
Having this standard means we are pre-qualified for clients and contracts across the UK. It shows that ACA meets industry standards, the PAS 91 and Common Assessment Standard and therefore pre-qualify across the core modules required by public and private sector buyers. We can also demonstrate our professional standing with our Social Value certification.
Reduced Carbon Footprint
We are proud to say that we achieved certification for being a carbon-neutral company. Since then, we have planted seven trees to offset our carbon footprint.
Health and Safety Accreditation
Gaining Acclaim accreditation was a great way to quickly and confidently communicate to our clients that ACA is compliant and qualified in all the latest health and safety innovations.
Corporate and Social Responsibility
FEO Hull 360
As part of our commitment to volunteer and help businesses grow, we participated in a For Entrepreneurs Only (FEO) programme. FEO "provides a range of peer-led programmes and initiatives to help and equip start-ups, provide strategy, and focus on growing businesses and entrepreneurial ambitions for the next generation."
We helped to deliver the final session of the FEO Hull 360 programme for 2022. We recognise how important peer support is, so we were very pleased to be able to offer our knowledge and experience to benefit others.
White Cross Netball
We were also delighted to sponsor Leven-based White Cross Netball Juniors. Some of ACA's staff's children and their friends belong to the club, and it is an honour to support them in their endeavours as a way of giving back to the community.
Personal Development
Since its inception, ACA has always operated from a growth mindset, and that is the culture we have aimed to grow as our team has expanded. As a creative, Alex often disappears into his own world, overcome with curiosity because of a plant, carpet, room shape or other feature that catches his eye. Alex is always happy to learn new things, and he encourages the ACA team to brainstorm bravely.
As part of their personal development, Alex and Amelia completed the FEO Step Change for Growth course, where they looked at their business from a fresh perspective, evaluating and tweaking the business plan, and considering ways to develop and strengthen the ACA team. The program gave them a chance to invest time into considering how to improve ACA in a range of key areas.
Team Building and Staff Wellbeing
A team is only as strong as its weakest person and at ACA, we all believe in striving for personal improvement, looking out for each other, and creating a culture that is healthy and promotes wellbeing – just as we do for others through architectural and interior design.
Fun times
What's more fun than an evening of ten-pin bowling? Some of the team, not mentioning any names, ahem, Alex, um, Paul, took it a little too seriously, but we all had a great time, as you can see.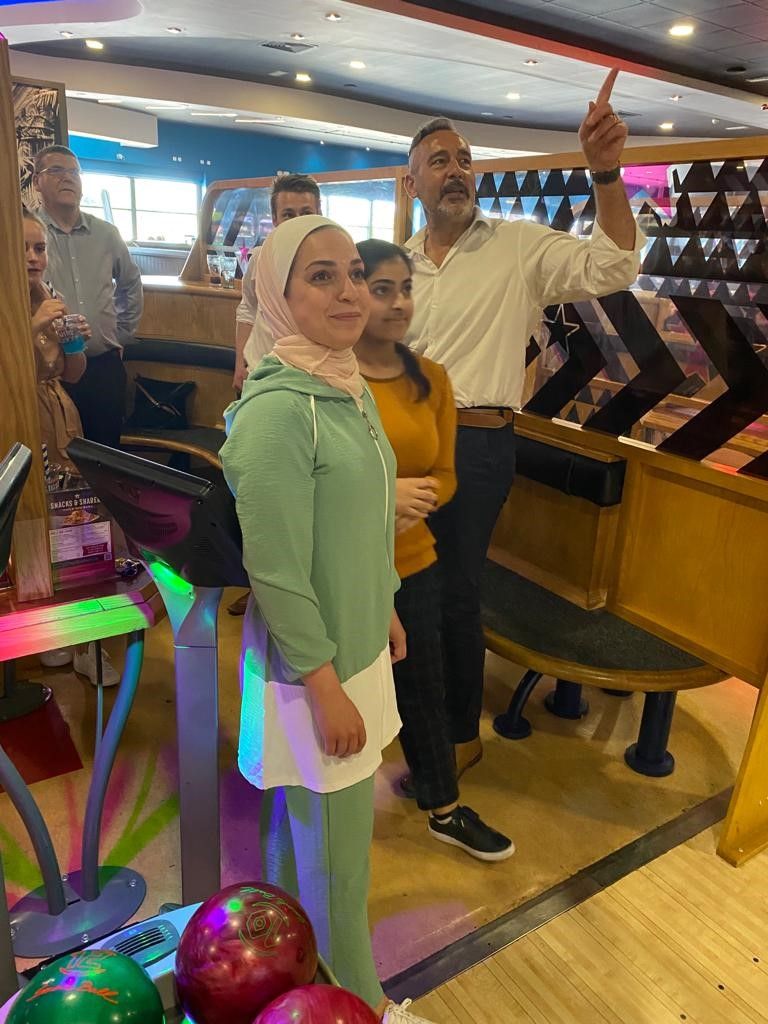 Oh, and Paul won, leaving Alex pondering what team game we could do next time that he might be able to win! Sorry, Alex. You can't be the boss of everything.
During the festive season, we finished early for Christmas dinner. It gave us a splendid opportunity to eat, drink, be merry, and try on some excellent hats.
Mindfulness
Wellbeing is important to us, and mindfulness is an excellent tool for improving mental health, resilience, and creativity. That's why we were very proud to announce that we officially became a mindful employer. This means we make mental health a priority for our people. For example, everyone on the ACA team has access to an independent and completely confidential adviceline. They can get help them navigate life's challenges at any time. Help is only ever a phone call away.
We have signed a charter to demonstrate our commitment to mental health.
And we couldn't wait to shout about it to encourage other employers to do the same. A happy team is a more productive, creative, and smarter team.
Thanks to Your East Riding for giving us the opportunity.
Thank You
Thanks for your support and for allowing us to share our journey. We have all put a lot of work into developing as individuals and as a firm.
In our next blog, we are celebrating the many wonderful projects we got to work on last year. Meanwhile, if you'd like to talk to us about a vision you want to make real, give us a call or drop us a line.