We recently shared how we had grown over the year. In this blog, we're taking a look back at the excellent projects we worked on and looking ahead to the designs that will soon be complete.
Completed Projects
The £8m new build Allam Diabetes Centre within the Hull Royal Infirmary opened officially opened at the start of 2022. That was only one of the great projects that we had the pleasure of seeing complete.
Zenith Developments Group (ZDG), a company we have worked with on many projects, including Allam Diabetes Centre, was looking for a new office. ACA remodelled and redesigned a St Faith's church in Dunswell into the ideal office space. The £250k conversion project was completed last year, and the result is awesome. See for yourself.
Calum Preston, ZDG's managing director, said:
"ACA provides excellent customer service and builds relationships well. They are a proactive and passionate business, committed and driven to do a good job."
Supported Living Apartments – Ipswich
In 2020, HB Villages appointed ACA to develop the design for supported living apartments in Ipswich. We had to consider many factors when developing the design. These included accessibility, flexible use and the adaptability of the layout, sustainability, and the surrounding landscape. We are proud to have been the principal designers for this £3m project, which was completed last year.
Humber Teaching NHS Foundation Trust
ACA transformed an open-plan office into public and private collaboration areas for Humber Teaching NHS Foundation Trust.
The reception area features a smart, modern design, and the open spaces offer more than enough space for brainstorming and collaboration. We chose a colour scheme that was congruent with the trust's branding and inspired by nature.
Official Openings
There's something magical about seeing ideas that we designed become living, breathing buildings and seeing people enjoying the spaces within them. It's even better when clients invite us to opening ceremonies. We enjoyed getting suited and booted and donning our glad rags for some official openings last year.
A Trip to Lincoln
It was a pleasure to attend the opening of St Barnabas Hospice Inpatient Unit in Lincoln in November. Alex, Amelia and Sonia Kopacz, our interior designer, made the trip to this 150-year-old building, which ACA had remodelled and refurbished. They got some good snapshots while they were there.
You can take the man out of Italy, but you can't take the Italian out of the man. Look at those shoes!
As part of his opening speech, Chris Wheway, the CEO of the hospice, said that the project had been "thoughtfully designed with care, compassion, and dignity."
St Barnabas Boston Wellbeing Centre
In 2019, Stefan Novak, a local philanthropist, made a generous donation to St Barnabas Hospice in Boston, Lincolnshire. The money was used to purchase a building, which was aptly named Novak House.
ACA remodelled and renovated Novak House, which became the home of the St Barnabas Boston Wellbeing Centre.
In June 2022, former Deputy Chief Medical Officer Sir Jonathan Van-Tam, who grew up in Boston, officially opened the centre. He described it as "a very important facility, very much needed by the community."
"It is fantastic for the Boston community to have a 24-hour, all-seasons development"
Alex and Sonia chilled in the courtyard.
And Amelia found a new friend.
Other notable opening ceremonies that we had the pleasure to attend were Specsavers in Hessle and the Whitby Hospital refurbishment at the Whitby Pavilion. ACA provided a RIBA client advisor service for dementia-friendly design associated with the interior design and landscape design for this project.
What's in the Pipeline?
It's always satisfying to see our designs developed into reality, and we are proud of our work, but the journey between concept and completion is a long and complex one. They say the march of a thousand miles begins with the first step. The first step in bringing a design to life is getting permission to develop it, and that's not always a given.
We managed to get approval for six exciting projects last year as well as the Millennium Care Village in Wigan.
Granville Court Nursing Home
We developed the design for this £3m project for Humber Teaching NHS Trust. The challenge was to extend and refurbish Granville Court, a specialist nursing home for adults with profound and multiple learning disabilities and complex physical health needs. We had to develop a household model of care that would comply with Health Building Notes (HBN) guidance, be pandemic-proof, and provide a healing non-clinical environment. ACA succeeded in ticking all the boxes creatively and beautifully.
Our design was approved.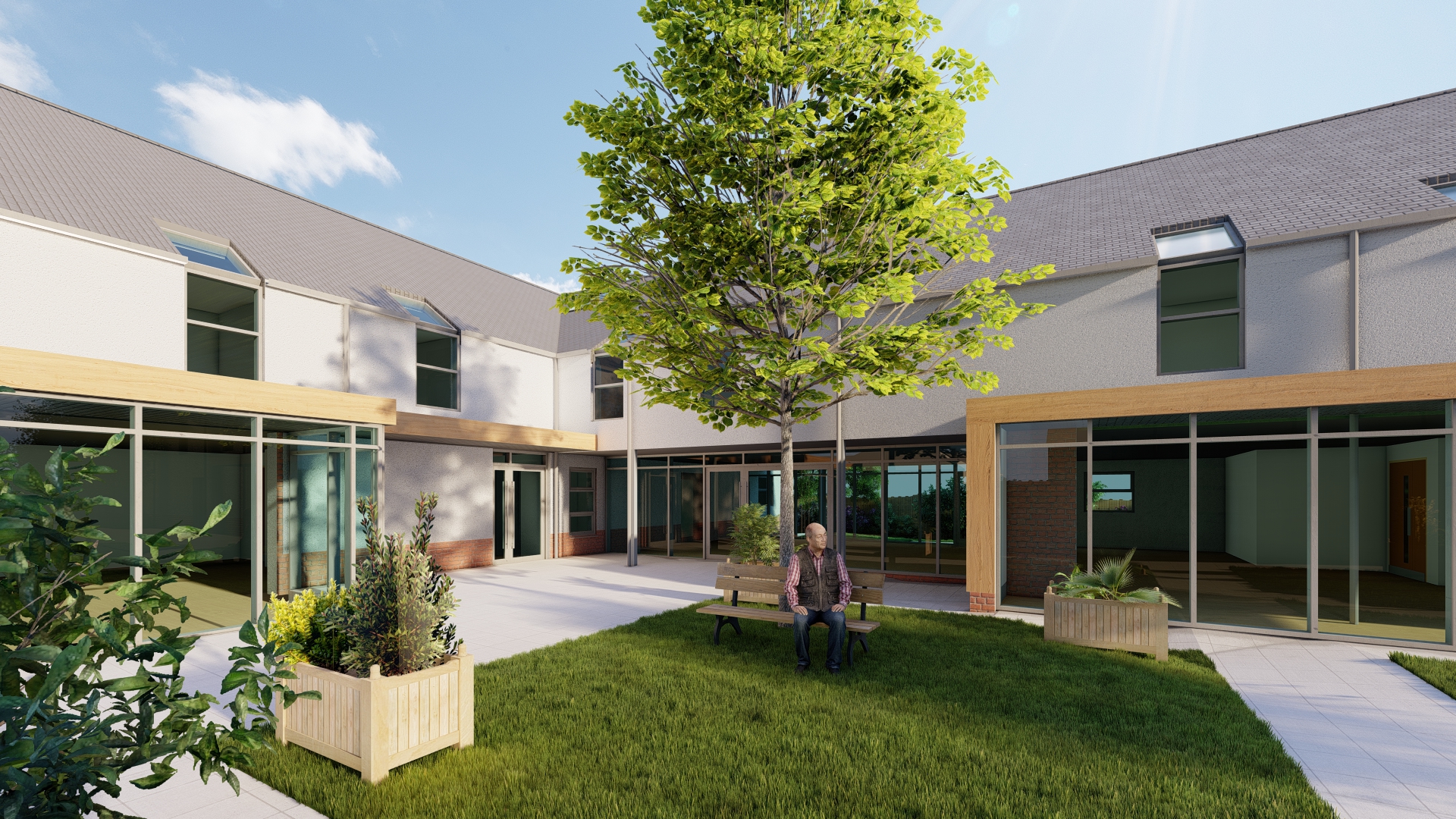 We earned a testimonial from Robert Atkinson, Deputy Director of Estates and Facilities in the process:
Having an in-depth knowledge of care environments, ACA consistently strives to provide sensitive, innovative, and patient-orientated design solutions.
Hedingham Medical Centre
The new Hedingham Medical Centre will cater for around 12,000 patients from Hedingham and the surrounding villages.
Braintree District Council awarded full planning permission for this state-of-the-art sustainable healthcare facility in April last year. Planning officers and councillors unanimously supported the application, which will future-proof the local community's healthcare needs while adding to the overall character of the area.
The Executive Chair and Property Director at One Medical Group, Rachel Beverley Stephenson, said:
We are proud to see this scheme taking a significant step forward and obtaining planning consent. Indeed this is a huge milestone for everyone involved, who have worked really hard to get the project to this stage.
We Went to Specsavers!
When ACA visited Specsavers in Hessle, it wasn't to get anyone's eyes tested. No; our job was to design the plans for an extension and refurbishment. This £250k project is now complete, and Marcus Weaver, the director of Specsavers in Hessle, gave us a glowing testimonial:
ACA's design team making three units look like a seamless single premises was an outstanding achievement.
This branch of Specsavers is in a conservation area, and we had to create a design which presented a seamless frontage between the three units while upgrading the existing building's fabric.
The images below show how the store looked before the extension and after:
First Day of Construction Celebrations
The first day of construction is always a special day for everyone involved in any development project, especially the architects. We listen to our clients' briefs, explore various ideas, home in on a design concept and develop it to the point where all stakeholders can approve it.
The start of work marks the end of the planning process and a commitment to executing the plan. It is an emotional moment.
Last year, we got to attend the beginning of work celebration of HB Villages Quarry Walk project in Dunstable, Bedfordshire. The town's mayor, Councillor Liz Jones, officially launched the event. This two-block development will be home to residents with physical disabilities and/or other complex care and mental health needs.
Other construction launch events included the Millennium Care UK Group project, Langtree Care Home.
Recognition
Last year proved to be a good year for gaining recognition for ACA and Alex.
One of the Top Business Leaders in Hull and East Yorkshire
BusinessWorks Magazine Hull and East Yorkshire listed Alex as one of the top twenty business leaders in Hull and East Riding. Mirroring Alex's success and recognition, ACA won an international architecture award for its design of the Allam Diabetes Centre. The project was completed in December 2021. ACA beat serious competition from around the world to win the award for Public Building Built category.
Testimonial
What was so special about the diabetes centre? Well, this quote from David Nurse, an end-user of the centre, says it all:
"As someone who has Type 1 Diabetes and as a retired Architect, I congratulate ACA on this magnificent new centre for patients and staff, who needed a modern centre to deliver excellent care! Well done to all who made this possible."
National Building and Construction Awards, London
Following ACA's international award, Alex was invited to be a judge for the National Building and Construction Awards (NBCA) in London. ACA won the NBCA award for Architectural Practice of the Year for 2021.
'All Publicity is Good Publicity' – but Good Publicity is Great Publicity
The Care Home Environment (TCHE) magazine featured ACA for the firm's 'pandemic-proof' design of the Millennium Care Village in Wigan. ACA had to overcome several planning objections to succeed in gaining planning permission where other architects had failed. The finished state-of-the-art design was not only ideal for the people with dementia who were going to be cared for in the building. The centre would be able to run well even if there was another pandemic.
As well as the feature in TCHE, the Health Estate Journey gave ACA a write-up for the Allam Diabetes Centre.
Thank You
One of our mottos is to always be grateful.
We are grateful for the continued success of ACA and grateful to our clients for putting their trust in us and giving us the opportunity to work on such exciting projects – projects that make a difference to people and communities.
We are grateful to every member of the team. Thanks to you, we can deliver on our promises and exceed expectations.
We are grateful for our health and wellbeing.
We are grateful for another year of challenges, opportunities, and learning experiences.
And we are grateful to YOU. Thanks for allowing us to share our journey with you.
We're looking forward to an excellent year ahead. Maybe our next big project will be one that you're thinking about. If you're looking for an architect to create the perfect design for your development, get in touch.